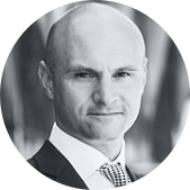 Dariusz Mazurkiewicz
President of the Management Board
President of the Management Board of Polski Standard Płatności
Since 2017, CEO of Polski Standard Płatności, which runs the popular BLIK payment system. In 2015–2017, Vice President of the BLIK Management Board responsible for product and partner development of the system.
In 2010–2014 CEO of SkyCash Poland SA, where he created the innovative SkyCash mobile payment service from scratch. The company achieved the position of the fastest growing Polish start-up in the TMT segment, in the EMEA region in the Deloitte Fast 500 ranking for 2010–2014.
Previously in the e-commerce and media industries. As the president of the management board at Bauer-Weltbild Media Sp. z o.o. (in 2008–2010), and Vice-President of the Management Board of Interia.pl SA. in Kraków (in 2006–2008). He started his professional career at the Michelin Group (in 2002–2006) in France as a Financial Controller at the Group's headquarters, and then as a Financial Director of the Technology Centre belonging to the Michelin Group.