Record-breaking
activity of
BLIK users
424 million transactions in 2020
A code to
make your life easier
The BLIK code is a one-off, 6-digit code, which you will find in your bank's application. It is valid for 2 minutes. After that time, you can generate a new one. You use the code to start your payment.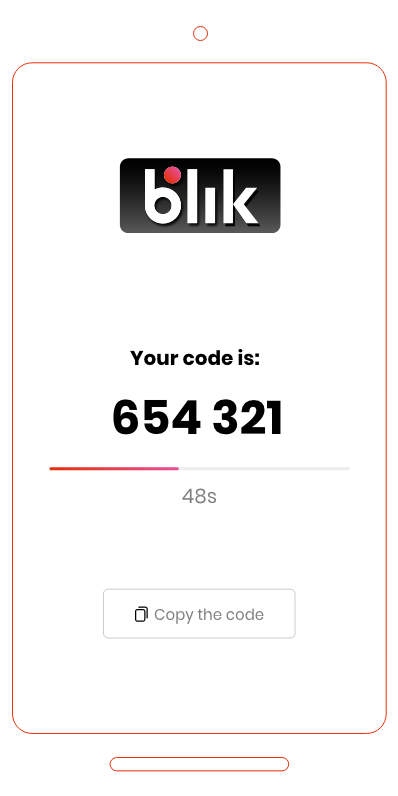 What do you need to pay with BLIK?
1
The bank's app
BLIK is available in the apps of 15 banks
2
A phone
Any phone that can support your bank's app
3
Internet access
An Internet connection e.g. through Wi-Fi or a mobile network
BLIK
One BLIK,
numerous possibilities
Benefit from solutions that will make your everyday life easier and gain precious time
Without installation
You already have everything you need in your bank's app
15 banks already support BLIK!


Convenient and fast
Pay quickly and conveniently online
BLIK is available in all online payment systems.


Always at hand
Buy in your favourite stores in Poland, using BLIK's capabilities
BLIK is available in most physical stores




A phone with an app is enough
Use an ATM without a payment card
You will withdraw money with BLIK at these ATMs


BLIK
History with BLIK in the background
"Efficiency, fast, time-saving, and error minimization e.g. when writing out a bank account number that is needed for a traditional transfer, greater personal data protection than other fast payment methods...."
Ania, 43 years old
"BLIK saved me when I forgot my wallet. I was reminded that I have BLIK in my banking app on my phone and now I only pay in this way."
Justyna, 24 years old
"Payment is great, I was a little afraid, which is why I paid in the traditional way, but there was no need. Now I only pay with BLIK, I recommend it to everyone :) Fast, efficient, faster than by logging into your bank."
Marek, 35 years old
"BLIK is my discovery when it comes to settling up with my friends. I make a transfer to the phone and my friend has the money in his account in a few seconds! And it doesn't matter that his account is in another bank."
Konrad, 27 years old
"This was my début when it comes to payment with BLIK and "not as terrible as they make out". I had some concerns as to whether I would be able to cope, but you have to move with the times, it went very smoothly and easily."
Joanna, 55 years old